Here is a little video of Rosina Creating some Giant bubbles! Notice how she opens the wand, lets the wind in and then closes off again. If there is no wind, pull back on the wand and step back at the same time to create air flow through the wand. Have fun making giant bubbles from Super bubbles!!!
---
View this post on Instagram A post shared by Super Bubbles (@superbubblesireland)
---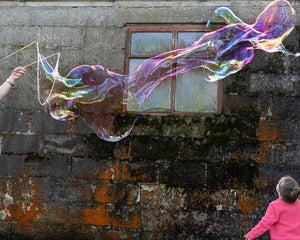 If you have a child with special needs making giant bubbles can be a great way to stimulate your childs senses. We know this because we have donated some samples of our product to various organisations and the feedback has been excellent. Check out one example here.